Sri Swamiji – March Event Updates
Sri Swamiji reached Ashram on February 28th evening after Rohini purapadu at Senganur. He attended a private function at Ashram on March 1st morning. He left for Kanchipuram after that. He had darshan of Sri Pandavathootha Perumal and Sri Ashtapuja Perumal at Kanchipuram.
On March 1st evening, on the auspicious Tirunakshathram of Sri Tirukachi Nambigal, purapadu of Theperumal (Sri Varadan) was held. Sri Swamiji had blissful darshan of Sri Varadan in front of our Keerthanavali Mandapam. He returned to Chennai that night.
Sri Swamiji reached Sri Vanararaja Simman Temple, Kangeyam on 3rd March. Sri Swamiji's satsang took place at Sathyamangalam in the evening. He narrated the divya charithram of Sant Tulsidas with excerpts from Ramayana, as He reiterated the greatness of Nama kirtan! Around 150 bhaktas attended the satsang.
It was a divine and vibrant evening at Ernakulam on March 5th. Sri Swamiji's satsang was held at the Madapilly samooham hall, Ernakulam. In His discourse, Sri Swamiji emphatically proclaimed the glory of Bhagavata dharma and Namakirtan, holding a sea of bhaktas in rapt attention. The venue was filled with devotees on a short notice, and the satsang was well organised by our Ernakulam Namadwaar team led by Karthikaji.
Sri Swamiji reached Chennai on March 6th morning and attended a bhajan that evening.
Sri Swamiji did Tirumanjanam to Sri Madhuri Sakhi Sametha Sri Premika Varadan on 7th morning on the auspicious Holi Day – Sri Chaitanya Mahaprabhu Jayanthi. He celebrated Holi Vaibhavam at Ashram. He left Chennai by afternoon and reached Tirunangur by evening.
On 8th morning, Sri Swamiji visited our Go-Shala at Nangur and then had darshan of Sri Kudamadum Koothan at Arimeya Vinnagaram Divya Desam. Then, he had snanam at the holy Viraja Nadhi at Vaikunta Vinnagaram followed by darshan of Sri Vaikunta Natha Perumal.
On 8th evening, he had darshan of Sri Pallikonda Perumal at Tiruthetriambalam Divya Desam. He later participated in a satsang at KG Mandapam at Thirunangur and discoursed on Sri Vamana Avatharam.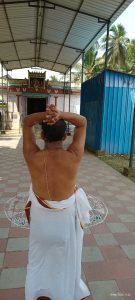 Sri Swamiji attended a Veda Parayanam at Tiruvenkadu on March 9th morning followed by two Upanayam functions at Nangur. He reached Chennai that evening.
On 10th and 11th evenings, Sri Swamiji attended Bhajans at devotees residence. On 11th night he left for Coimbatore.
On March 12th, a grand Akhanda Nama Sankeertan was held at Sri Ayyappan Pooja Sangam, Coimbatore in the divine presence of Sri Swamiji. Around 1000 devotees participated and chanted Mahamantra from 6am-6pm with great devotion. Sri Swamiji reached Udumalpet Namadwaar that night.
On March 13th morning Sri Swamiji gave darshan to devotees at Udumalpet Namadwaar and performed Nama Sankeertan with devotees.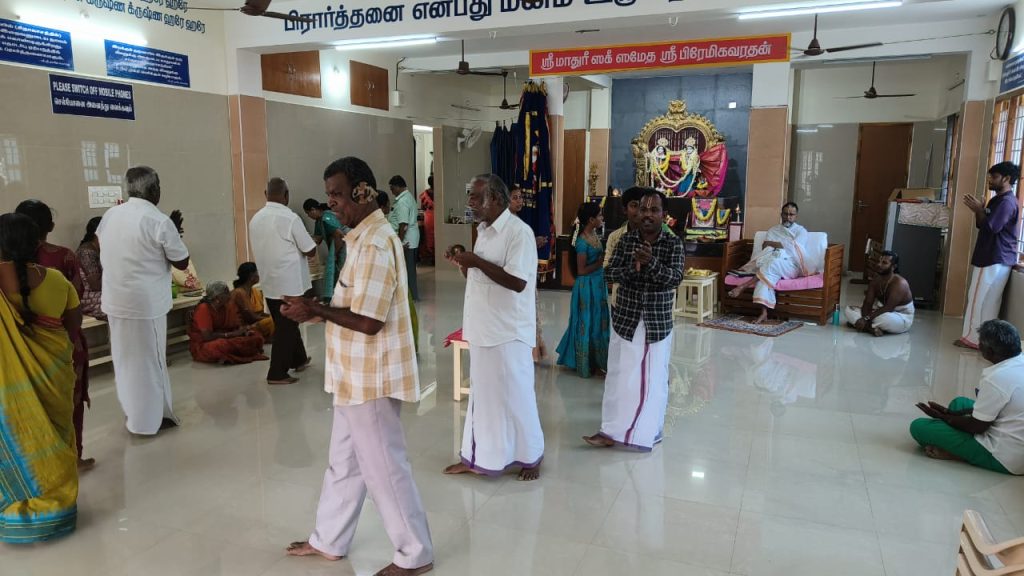 Sri Swamiji reached Kangeyam on March 13th late morning and had darshan of Sri Vanararaja Simman. He reached Trichy by evening and left for Chennai by night. He reached Chennai on March 14th early morning.
Sri Swamiji attended a private function in Ashram on March 16th and 17th. At other times he was performing Japam. On 17th evening, he discoursed on Sri Bodhendral Charithram at Sandipani Vidhyala, SASTRA Satsangh at Vadapalani, Chennai.
On March 18th morning, Sri Swamiji performed Tirumanjanam to Sri Madhuri Sakhi Sametha Sri Premika Varadan at Ashram on auspicious Ekadasi day and distributed Theertha Prasadam to devotees. That evening, he discoursed on Sri Sadguru Swamigal Charithram at Narada Gana Sabha, Chennai.
Sri Swamiji attended a Radha Kalyanam at a devotees residence in Chennai on March 19th morning. Later he left for Erode and reached Erode by night.
Between March 20-26, Sri Swamiji attended a Srimad Bhagavatham Sapthagam at Erode and delivered a lecture at Parimalam Mahal. He left Erode on 26th night and reached Senganoor.
On 27th Monday, Sri Swamiji led Rohini Purapadu at Senganoor and distributed theertha Prasad to all devotees. He reached Chennai that evening.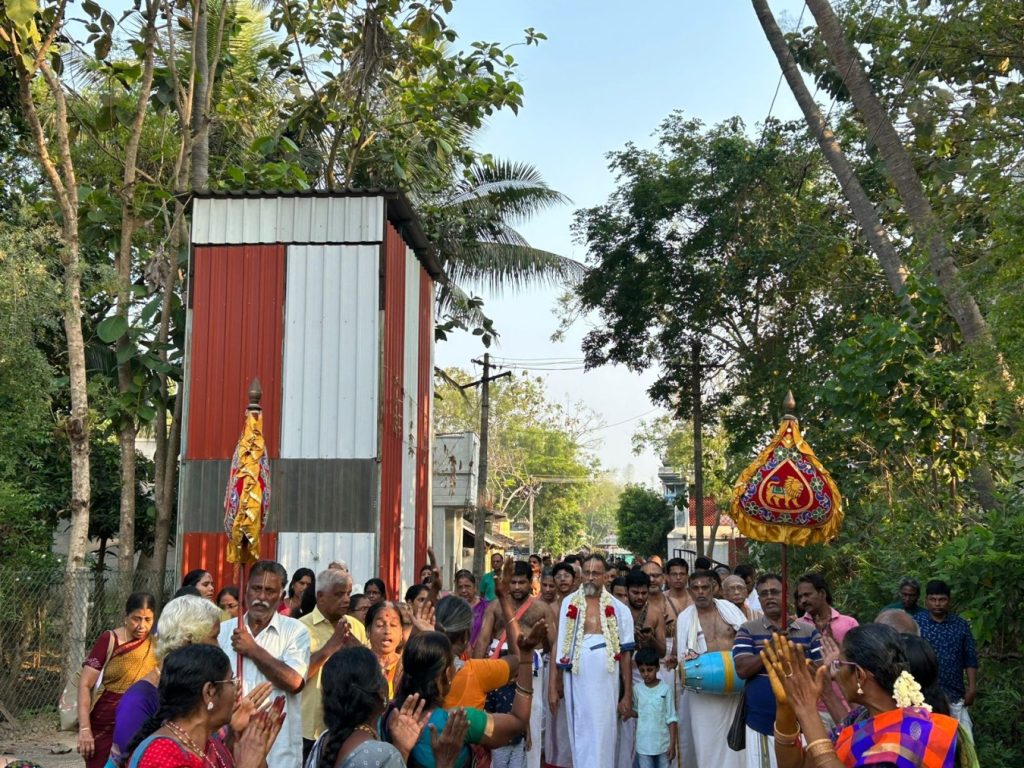 March 2, 2023, 8:37 pm

March 8, 2023, 12:45 pm

March 9, 2023, 10:26 am

March 9, 2023, 6:12 pm

March 9, 2023, 10:04 pm

March 10, 2023, 4:42 pm

March 11, 2023, 9:17 pm

March 27, 2023, 4:06 pm