Inauguration of the Edmonton Namadwaar
With Sri Swamiji's grace, Edmonton- Alberta was blessed with a Namadwaar on March 6th, 2023. This is the first Namadwaar in Canada.
The festivities began with the reverberation of Mahamantra chanting by all the devotees. Then came the most awaited moment! Sri Swamiji from India did the formal inauguration of the Namadwaar and Sri Swamiji was very happy to listen to the Mahamantra chanting by all the devotees.
(Recording of the live broadcast of the opening ceremony can be seen here: Opening Ceremony)
The celebration then continued with Sri Swamiji's Padhuka Pravesham by Sri Poornimaji, while the devotees chanted the Mahamantra and sang several of Sri Guru Maharaj's kirtans. The devotees were also blessed to watch Sri Swamiji's anugraha bhashanam that he had already sent earlier.
(The complete video of Sri Swamiji's anugraha bhashanam can be viewed here: Swamiji's Anugraha Bhashanam).
In the anugraha bhashanam, Sri Swamiji said, "Bhagavata dharma shows prema (love) towards every being. This is the essence of Srimad Bhagavatam. Katha shravanam and Namasankeertanam are the two pillars of Bhagavata dharma. To take Nama everywhere, small centers were started. In Tamil Nadu and Karnataka, we have many such centers where chanting of Mahamantra happens every day. There are Namadwaars in America, Australia, Singapore and Malaysia and satsangs happening in different parts of the world such as Indonesia, Dubai, Muscat. Now in Edmonton, Canada, on this auspicious day of Pournami, the Namadwaar inauguration is going to happen in the presence of Poornimaji. The purpose of establishing Namadwaar is that the people who come here should get a peace of mind, their earnest prayers should get answered, they should get an interest in satsang, they should lead a life in such a way that will please Bhagavan and get Bhagavan's darshan. This is a milestone as this is the first Namadwaar in Canada. More and more people are going to come and chant Nama in Canada. I am planting a small sapling today, it is going to grow into a big tree and many people are going to get benefited. This Namadwaar is going to be there till the sun and moon are there. Chanting of Nama and Nama pracharam is going to happen in Canada. This Nama tree is going to grow in Canada and give fruits to lots of people. Bhagavan Premika Varadan's krupa will make this happen."
This auspicious occasion was the culmination of a 4-day celebration in the presence of Sri Poornimaji and with devotees from all around US and Canada. By Guru Maharaj's grace, this wonderful occasion fell on the most auspicious day of Sri Chaitanya Mahaprabhu Jayanthi day.
The festivities began on March 3rd with the rendering of Thodayamangalam and Ashtapadis by devotees and children. This was followed by Srimad Bhagavatam Dasama Skanda parayanam, Chapters 1 to 3. Sri Poornimaji started Day 1 discourse on "Greatness of the Divine Name (Kaliyaiyum Bali Kollum)". Sri Poornimaji conducted 'Krishna Jananam anukaranam', with beautiful Madhurageethams along with kolattam by children and ladies. All the devotees enjoyed blissful satsang. The first day concluded with dolotsavam.
Day 2 began with prabodhanam, followed by Srimad Bhagavatam parayanam of Dasama Skandam, Chapters 4 to 27. Thirumanjanam of the Divine Couple was done. Wonderful anukaranam of Govinda Pattabhishekam was conducted by Sri Poornimaji and devotees.
Annakoota uthsavam was celebrated, beautiful Krishna was made with different varieties of rice, fruits and bakshanam.
In the evening, kids and devotees sang Ashtapadis. This was followed by Gopa Kuteeram and Krishna's Cottage youth presentations. Gopa Kuteeram children recited Dhruva Stuthi and Bheeshma Stuthi. Krishna's Cottage kids sang Abhangs and Madhurageethams. Sri Poornimaji presented certificates and medals to the kids. Sri Poornimaji continued with Day 2 katha. In preparation for the upcoming Sri Radha Madhava Vivaham, the devotees enthusiastically celebrated the Divine Couple's Janavasam while singing many of Guru Maharaj's kirtans. The day's event ended with dolotsavam.
Day 3 began with prabodhanam, followed by Srimad Bhagavatam dasama skanda parayanam, Chapters 28 to 54. Radha Kalayanam Mahotsava started after the parayanam. Children and devotees sang Kalyana Ashtapadi, followed by the recital of Pravaram, Churnikai, Mangalashtakam and Thirumangalya dharanam.
In the evening, Sri Poornimaji continued the Day 3 discourse and devotees were transported to Nama loka with Sri Poornimaji's nama kirtanam and katha. Srinivasan ji & Sharada ji's family, Sethumadhavan ji & Subashini ji's family, Narayanan ji & Kaminiji's family, Ramesh ji & Gayathri ji's family, Shankar ji & Shanti ji's family, Malavika ji & Bala Murali ji's family, Radhika Subramanyam ji, Usha ji & Sundar ji's family, Bala ji & Radhika ji's family, Srinivasan ji & Vijayalakshmi ji's family, Bharath ji & Nirmala ji's family, Nagarajan ji & Geeta ji's family, Ganesh ji & Deepa ji's family, Visweswaran ji & Parvathi ji's family and several devotees have done dedicated seva and helped with the smooth running of the 4 days of Madhurothsavam.
Edmonton GOD Satsang family offer their prayers and humblest pranams at the lotus feet of our Sri Swamiji, who has held each one of us as His child in His heart and answered our prayers for this Namadwaar in Edmonton.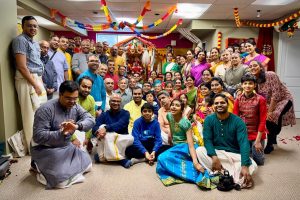 March 8, 2023, 10:27 am

March 8, 2023, 12:43 pm

March 8, 2023, 4:55 pm

March 8, 2023, 5:15 pm

March 8, 2023, 6:21 pm

March 8, 2023, 6:46 pm

March 8, 2023, 7:34 pm

March 8, 2023, 9:28 pm

March 8, 2023, 10:32 pm

March 12, 2023, 12:33 pm

March 14, 2023, 9:01 am