Gopa Kuteeram Summer Camps at Namadwaars
Summer Camps were organized at various Namadwaars by the Gopa Kuteeram Faculty of Global Organisation for Divinity India Trust. Students were taught stories from puranas, bhajans and slokas. Many activities to kindle their enthusiasm and creativity were organized.
Sivakasi:
85 students attended the camp held at Sivakasi Namadwaar. The camp was run by Smt Aishwarya Kumaravel, Smt Lalitha and Smt Bhavani.


Theni:
30 students attended the camp. The camp was run by Mrs. Baarathi, Mrs. Shobana and Mrs Jeeva.


Trichy:
21st May 2023 – Overall 15 children benefitted from the fun-filled holistic camp. The camp was run at Trichy Namadwaar by Srimati Shanti Ganesh, Shri Viswanath, Shri Gokul, Selvi Dhanya, Srimathi Priya Viswanath, Selvi Sreegayathri, Selvi Swetha, Smt Jayasree and Srimati Madhumathi Varadharajan.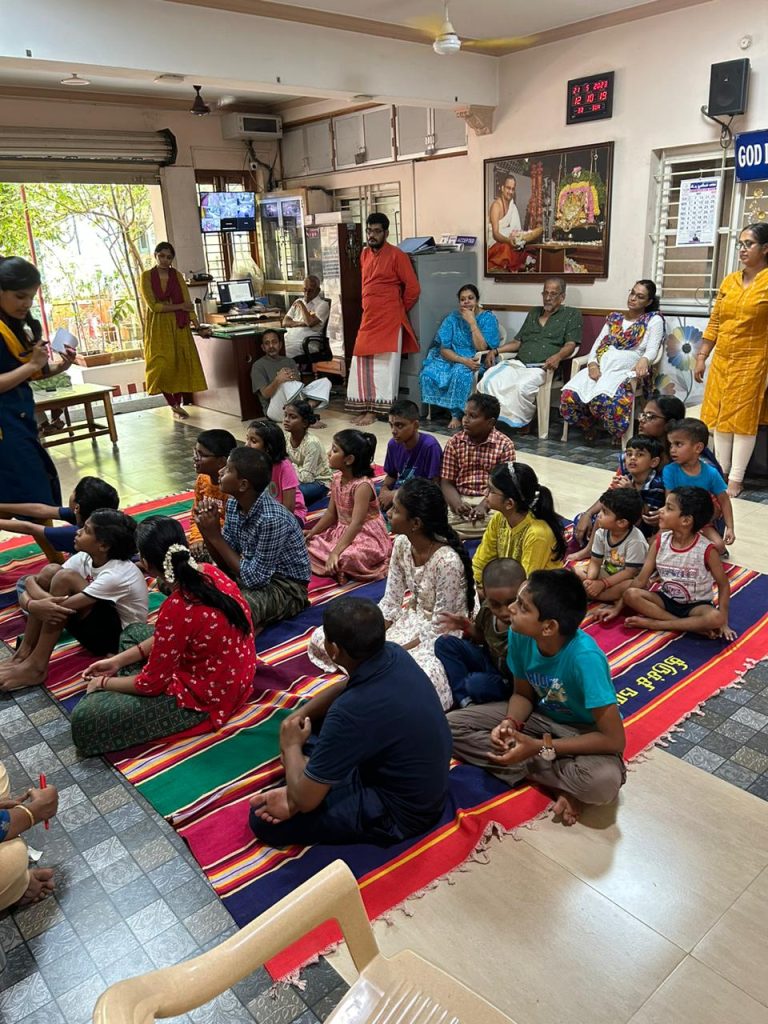 Tuticorin:
A summer camp for kids was organized on May 15 and 16, 2023, aimed at providing a fun and educational experience for children during their summer break. The camp focused on various activities that aimed to engage the children's minds, enhance their physical fitness, and impart knowledge about cultural values and important life skills. A total of 65 kids participated in the summer camp, food and refreshments were provided.
Activities:
Nama Chanting: The camp activities commenced with a session of Nama chanting, where children were introduced to the power of devotional chanting. This activity aimed to create a peaceful and positive environment to start the day.
Storytelling: Smt. Selvamari conducted an engaging storytelling session, captivating the children with fascinating tale of Pundalikan, insisting the respect and love we have to show our parents. The stories not only entertained the children but also imparted moral values and life lessons.
Learning Slokas: Children were given the opportunity to learn slokas, which are sacred verses from Srimad Bhagavatham. The session aimed to introduce the kids to the rich cultural heritage of Sanatana Dharma and promote spiritual development.
Zumba Dancing: A high-energy Zumba session was organized to boost the children's physical fitness and energy levels. Through lively music and dance, the kids had a great time while also exercising and staying active.
Kirtan and Craft Work: Children were taught Madurageetams, kirtans of Sri Swamiji, which allowed them to express their creativity and cultivate a sense of devotion. Additionally, craft activities like making a flute and face masks were organized where the kids created beautiful art pieces, fostering their artistic skills.
Educational Sessions:
Apart from the fun activities, the camp also included educational sessions on various topics:
Science behind Sanatana Dharma: A session was conducted to explain the scientific aspects and logical reasoning behind the practices and rituals in Sanatana Dharma. The objective was to bridge the gap between science and spirituality, helping children develop a rational and inquisitive mindset.
Temples and their Glory: Children were introduced to the historical and cultural significance of temples. They learned about different temple architectures, ancient traditions, and the importance of preserving our heritage.
Life Lessons from Sundarakandam: An interactive session was conducted where children were taught valuable life lessons from the Sundarakandam, a chapter from the epic Ramayana. The stories emphasized qualities such as courage, perseverance, and devotion.
Road Safety for Kids: Sri Balamurugan addressed the children on the importance of road safety and shared practical tips to ensure their well-being while traveling. The session aimed to instill responsible behavior and raise awareness about the potential risks on the roads.
Dental Hygiene: Dr. Nandhini conducted an informative session on dental hygiene, teaching the children about the importance of proper oral care and providing practical tips for maintaining healthy teeth and gums.
The summer camp for kids was a resounding success with the grace of Sri Guruji. It provided an enriching experience for the participants, combining fun activities with valuable educational sessions. The camp fostered a sense of cultural pride, instilled important life skills, and promoted physical and mental well-being among the children. The organizers and volunteers were delighted to witness the enthusiasm and active participation of the kids throughout the event, creating lasting memories.

Madurai:
7th Gopakuteeram summer camp was held on 19th & 20th May '23 at Madurai Namadwaar. 50 kids (7 -14 years) participated. They were divided into 6 groups – SUNDARA GOPAL, SANTHANA GOPAL, RAJA GOPAL, VAMSIDHARAN, GIRIDHARAN & DAMODHARAN. Each team was led by 2 volunteers – Mrs Jeyalakshmi & Ms Jawaani Sri, Mrs Shri Lakshmi Vibutha & Mrs Devi Ananthi, Mrs Valarmathi & Mrs Kavithaa, Mrs Vijaya Shanthi & Mrs Poogkothai, Mrs Shakthi & Ms Priyasha, Ms Harini & Ms Swetha. Snacks and lunch were provided on both days at Namadwaar by Mrs Meena.
Day 1:
The camp started with Aarthi to Sri Premika Varadhan and Madhuri Sakhi, daily prayers and naama chanting. Introduction to Sanatana dharma was given by Haridas ji. The "Matha, pitha, guru, deivam" dharma for the kids was highlighted through the "Pundalikan story" and Madhurageetham "Tulasi poojayal". A "Tulasi pooja" & "Go pooja" was performed by Haridas ji for the kids. Basic yoga was taught in between each session by Mrs Shakthi.
Our tradition and its values were taught through games – pallanguzhi and thattangal. Significance of bindi, flower, and dress was given by Ms Jawaani Sri and a hairstyle was demonstrated by Dr Varshini.
The Importance of food was explained and demonstrated through' fireless cooking by Dr Sethu. Home remedies (basic ayurveda) were explained in a simple manner by an octogenarian Mr. Naamazhwar also called as "mooligai thatha"). The day ended with naama chanting and Aarthi.
Day 2:
The camp started with Aarthi, daily prayers and naama chanting. Introduction to Bhagavata dharma was given by Haridas ji. Importance of Nama for this yuga was taught through bhagavata slokas, naama anubhava stories,and Madhurageetham "Namam solluvom Varir". The kids played a board game through power point presentation. Intelligent living – Time and stress management was beautifully explained along with activities by Mrs. Lakshmi Bai. In the craft time, the kids were taught to make thoranam, a soft krishna toy, flute and a wollen cap.
Valedictory function :
Mrs. Kopperundevi – principal of Sri Ram Nalla Mani GHSS was invited as chief guest and about 20 parents participated. Certificates, booklet, the kid's crafts, and compliments (crochet rose, notebook, pen, labels, book tag, naama sticker, Kumkum and a Krishna magnet and a Tulasi plant) were given to each kid. The camp ended with Aarthi and Naama chanting.

Virudhunagar:
Gopakuteeram summer camp was held at Virudhunagar Namadwaar on May 27 from 9.00 am to 5.00 pm. 136 children participated in this. Yoga, Meditation, Slokas, Bhajans, Crafts, Sports, Painting, and stories from puranas were taught. Children were given breakfast, lunch and dinner. Sri Bharath ji distributed certificates and gifts to all the participants.

Periyakulam:
Summer camp was organised in Periyakulam Namadwaar from May 28 to June 1, for children aged 7 to 14 years for five days.
Stories, Yoga, Bhajans, Games, Mango leaf thoran making, coconut leaf decoration, tulsi puja and such activities were organised. Smt Padmavathi Krishna Chaitanyadas, Sri Manikandan, Selvi Divya, Selvi Sandhya, Smt Bharati, Smt Aishwarya, Sri Muthiah were all involved in making this event a success.
74 children participated in this camp and all the children were given gifts, certificates, food and snacks. The camp was organised by Sri Krishna Chaithanyadas,and the devotees of Periyakulam Namadwaar.