Sri Swamiji's satsangs in March'20
On 1st March morning, Sri Swamiji gave a discourse at Trichy Namadwaar and performed Nama Sankirtan with devotees. Bhajan was performed at Patasala in the evening.  Sri Swamiji had darshan of Sri Srirangam Perumal in Garuda Vahanam in front of our Patasala.
On March 2nd, Sri Swamiji visited Vedaranyam and attended the Veda Parayanam function at Sri Premika Vidyasramam. He also attended a private function. Sri Swamiji later had the darshan of Sri Vedaranyeswarar. In the evening, Sri Swamiji had darshan of Sri Vidhya Rajagopala Swami  at Mannargudi and sang different Keertans on Sri Rajagopala Swami and also participated in the Oonjal Utsavam. Later Sri Swamiji reached Senganoor by night.
On March 3rd , Sri Swamiji led the Rohini purapadu at Senganoor. After the purapadu, Sri Swamiji did a satsang at Senganoor Namadwaar and discoursed on Srimad Ramayanam. In the evening, Sri Swamiji visited Koothanur village in Tiruvarur district and had darshan at Maha Saraswathi Temple.
On March 4th, Sri Swamiji left Senganoor and had darshan of Sri Lakshmi Narasimha Swami at Parikkal on the way to Chennai.
On 5th morning, Sri Swamiji attended a wedding in Chennai.
On 6th morning, Sri Swamiji attended a shop's re-opening function near ashram. Being Ekadasi, Sri Swamiji then did thirumanjanam for Madhurisakhi and Premika varadhan and gave darshan at Ashram.
On 7th, Sri Swamiji was in japa and dhyana at Ashram.
On 8th, Sri Swamiji attended BrahmaSri Rajagopala Ganapadigal Shraddhanjali at Venus Colony, Chennai.
On 9th morning Sri Swamiji did Thirumanjanam for Sri Krishna Chaitanya Mahaprabhu at Premika Bhavanam. In the evening, Sri Swamiji did purappadu for Premika Varadhan, at Ashram, followed by Holi celebrations. In the evening, Sri Swamiji attened the Akanda Nama at Mattur, a village near Oragadam where more than 500 people chanted nama.
On 10th, Sri Swamiji left for Kangeyam from ashram and performed the evening pooja at Sri Vanararajasimman Temple. Sri Swamiji was at Kangeyam on 11th as well.
On 12th, Sri Swamiji attended the Sri Vanararajasimman Temple samprokshanam from 8:30-9am, where a lot of devotees participated. Later, in the afternoon Sri Swamiji visited the Nama Kendra at Sathyamangalam.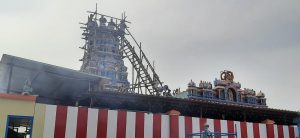 Sri Swamiji reached Udumalaipet Namadwaar around 6pm, where Sri Swamiji gave a lecture on Tulsidas Charitram. Around 350 bhaktas gathered.
On 13th morning, Sri Swamiji left from Udumalaipet and attended the Yajur Veda Sampoorna Gana Parayanam at Ram Temple in Coimbatore.
Sri Swamiji then left from Coimbatore and via Tharapuram reached Periyakulam. Sri Swamiji then gave a lecture in Theni.
On 14th, Sri Swamiji gave a Ramayana Upanyasam at Sringeri Jagadguru Pravachana Mandiram – Periyakulam (near Periyakulam Namadwaar).
On 15th, Sri Swamiji gave a lecture on Sri Rama Jananam at Periyakulam.