Brindavanamum Nandakumaranum – Narada Gana Sabha
Sri Swamiji's satsangh at Narada Gana Sabha, organised by Sastra Satsangh commenced on the 20th of May, 2019. This is a 9- day series  (20/05/2019 – 28/05/2019) titled 'Brindavanamum Nandakumaranum' on Srimad Bhagavatam 10th skandam.
Day 1 (20/05/2019) – The lecture series on Srimad Bhagavatam commenced today at 6.30pm.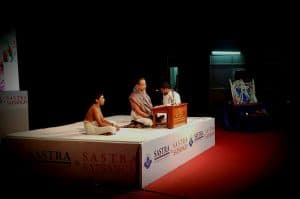 Day 2 (21/05/2019) – Sri Swamiji begins with the very first sloka of Srimad Bhagavatam.
Day 3 (22/05/2019) – Sri Swamiji narrated 'Sri Krishna Jananam' today.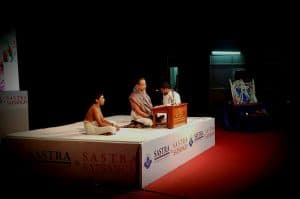 Day 4 (23/05/2019) – Sri Swamiji started narrating the blissful Krishna Leelas today
Day 5 (24/05/2019) – Sri Swamiji continued narrating the joyful Krishna Leelas..
Day 6 (25/05/2019) – 'Whenever you look at your hand, remember to thank Bhagavan. You have blessed me with this lovely hand that can offer a flower in surrender at your Holy Feet!' said Sri Swamiji.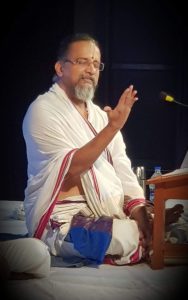 Day 7 (26/05/2019) – Sri Swamiji began the discourse today with Andal Caritram.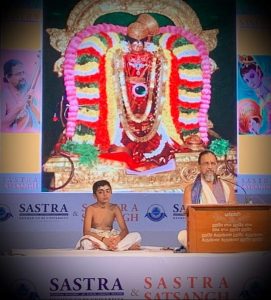 Day 8 (27/05/2019) – A moment of absolute silence, before the sweet nectar started flowing !!