A Note To Our Namadwaar Family
May Bhagavan Sri Premika Varadan's Blessings always be with you!
I can be peaceful only if all of you are in good health. Hence, I write this note to you.
The entire world is suffering from the impact of this virus. The Government Administration is taking rigid measures, as they would in the time of war. It is certainly our duty to take care of ourselves.
1. As per Government guidelines, wear a mask, practice social distancing and meticulous hand washing and personal hygiene.
2. Make sure you have necessary supplies of essential items at home.
3. Sprinkle rock salt at your door step and around your home. Rock salt is a good germicide/microbicide.
4. We have to build our immunity to protect ourselves from this virus.
5. Consume honey, dates, and fig every day to build immunity.
6. Do not be negligent.
7. Keep your body, clothing and home clean.
8. Do not meet or gather together with many people. Offer your support to the community, as per government regulations.
9. Take special care of the elderly and children at home.
10. Take good care of your pets to protect them from this disease.
11. The Government has announced that the Homeopathic medicine 'Arsenicum Album' and Siddha Medicine 'Kabasura Kudineer' are helpful in building immunity. Please have them after obtaining advice from a medical practitioner.
12. Even after the lockdown is lifted, step outside the house only when necessary, and when you do so, do it with necessary precautions and protection.
13. Be mentally strong
14. As always, chant Nama with utmost faith and devotion, for yourselves and for those around you.
15. The greatest favour you can do for me, is keeping yourselves healthy and mentally peaceful.
16. My happiness always lies in your happiness.
With Love,
Muralidhara Swamiji
(Translated Summary of Sri Swamiji's note)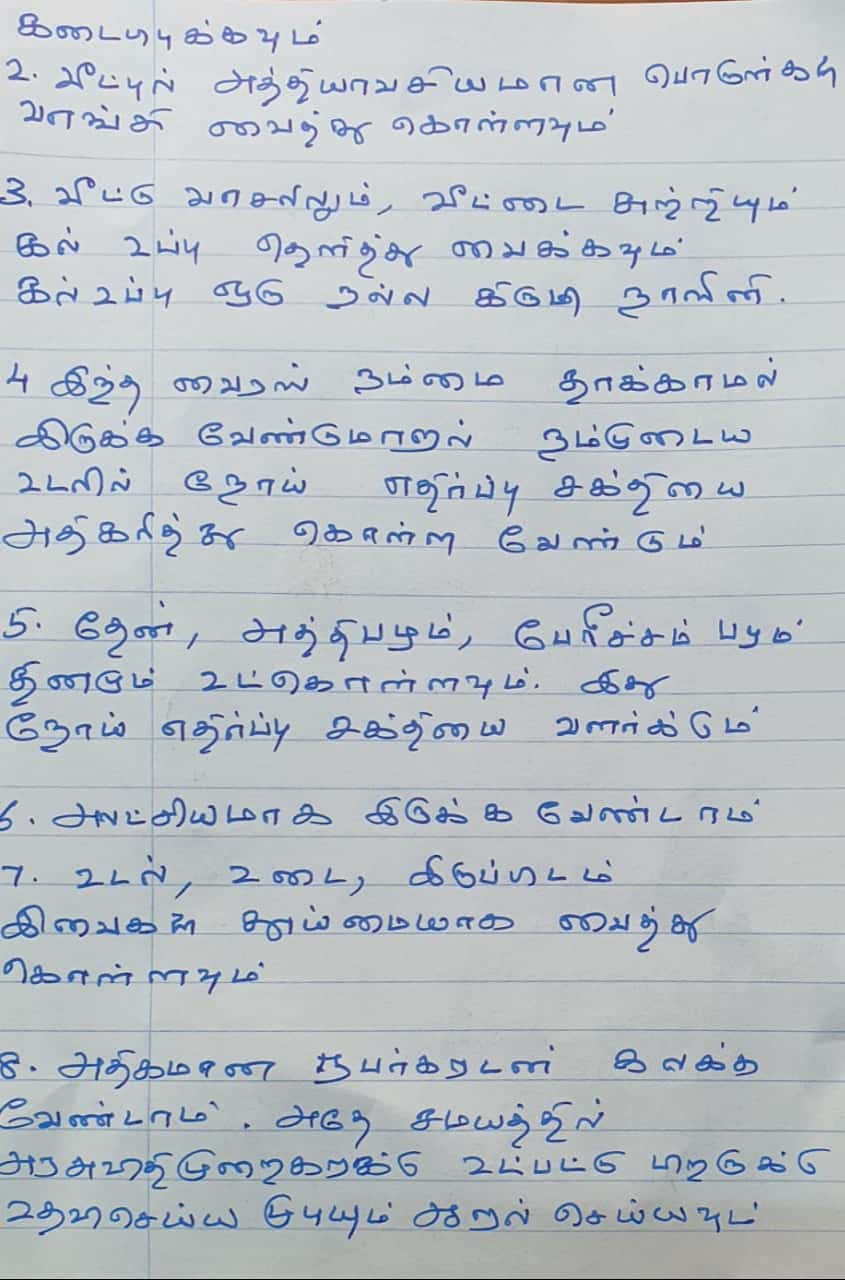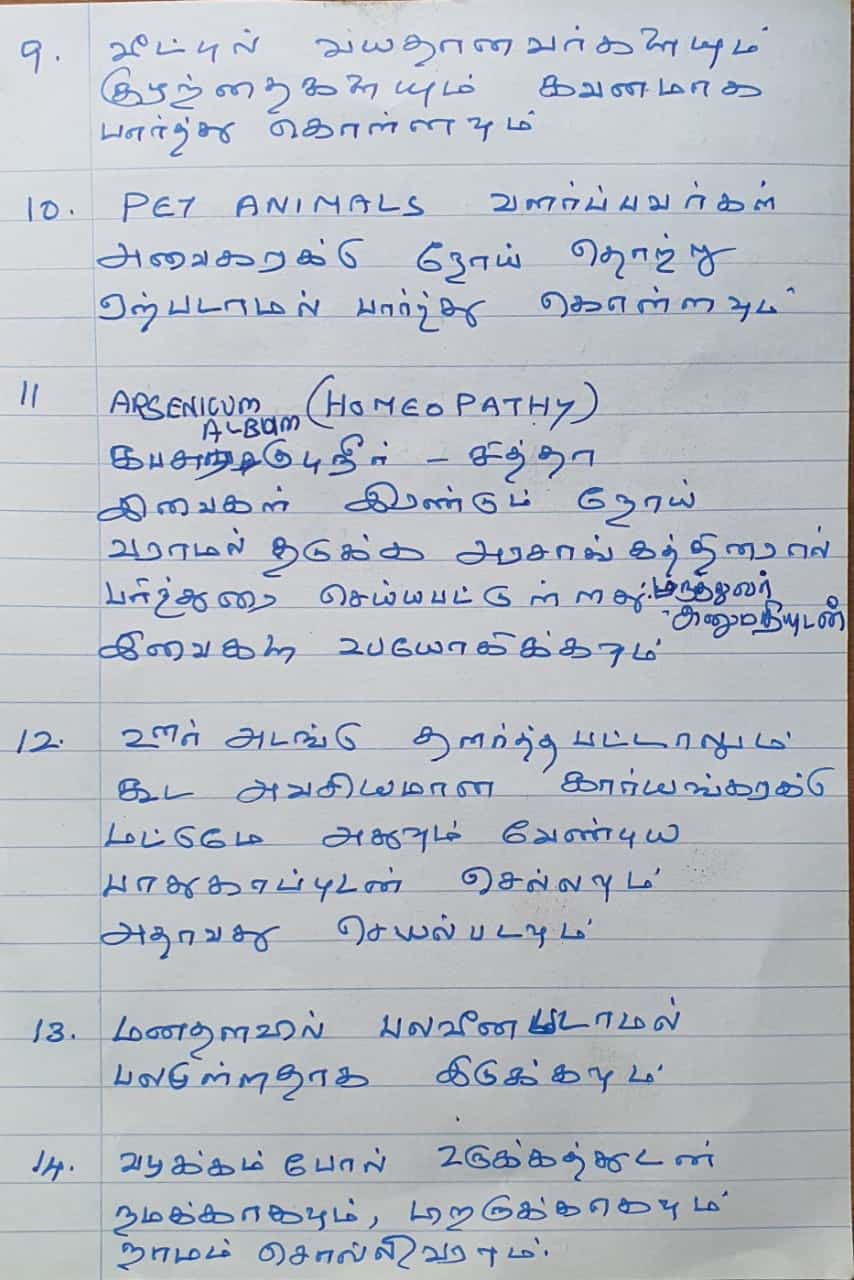 May 10, 2020, 12:11 pm

May 10, 2020, 12:26 pm

May 10, 2020, 12:29 pm

May 10, 2020, 12:52 pm

May 10, 2020, 1:12 pm

May 10, 2020, 1:19 pm

May 10, 2020, 1:38 pm

May 10, 2020, 1:43 pm

May 10, 2020, 1:45 pm

May 10, 2020, 1:58 pm

May 10, 2020, 2:01 pm

May 10, 2020, 2:07 pm

May 10, 2020, 2:09 pm

May 10, 2020, 2:13 pm

May 10, 2020, 2:14 pm

May 10, 2020, 2:14 pm

May 10, 2020, 2:23 pm

May 10, 2020, 2:25 pm

May 10, 2020, 2:25 pm

May 10, 2020, 2:44 pm

May 10, 2020, 2:48 pm

May 10, 2020, 2:54 pm

May 10, 2020, 2:54 pm

May 10, 2020, 2:55 pm

May 10, 2020, 2:57 pm

May 10, 2020, 3:05 pm

May 10, 2020, 3:09 pm

May 10, 2020, 3:10 pm

May 10, 2020, 3:30 pm

May 10, 2020, 4:14 pm

May 10, 2020, 4:19 pm

May 10, 2020, 5:08 pm

May 10, 2020, 6:34 pm

May 10, 2020, 6:59 pm

May 10, 2020, 7:18 pm

May 10, 2020, 7:22 pm

May 10, 2020, 8:11 pm

May 10, 2020, 8:30 pm

May 10, 2020, 8:34 pm

May 10, 2020, 9:34 pm

May 10, 2020, 9:58 pm

May 10, 2020, 10:00 pm

May 10, 2020, 10:37 pm

May 10, 2020, 10:40 pm

May 10, 2020, 11:05 pm

May 11, 2020, 8:56 am

May 11, 2020, 10:38 am